Efficiently execute audits, controls, and inspections with ease.
Adressing regulatory constraints, internal processes, and the monitoring of external activities is crucial for enhancing performance and security within your organization, teams, and customer relationships. To facilitate this, Daxium-Air offers a centralized solution that ensures the comprehensive, real-time, and reliable collection and reporting of structured information.
By leveraging Daxium-Air, you can efficiently manage and streamline the collection of data, enabling a more exhaustive and reliable approach to compliance and reporting. This empowers your organization to proactively enhance performance, strengthen security measures, and optimize processes for the benefit of your teams and customers.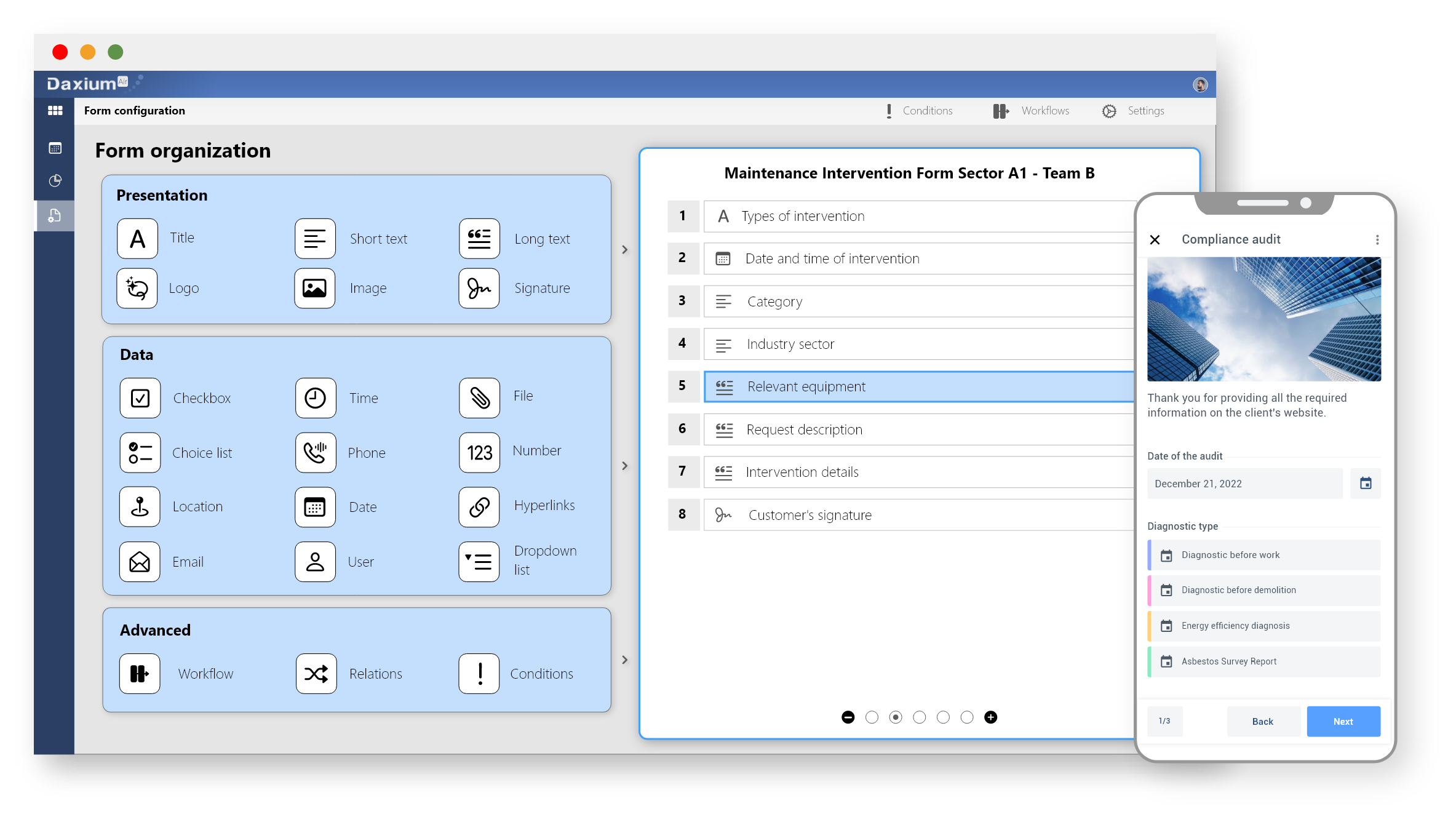 Digitalise

your audits, inspections and controls.

For companies and organizations conducting regular audits, inspections, and controls, efficient data collection in the field is vital. The ability to gather a wide range of data types such as measurements, photos, and plans is crucial. With Daxium-Air, this process is streamlined, allowing you to collect data efficiently. Once the data is transmitted to your stationary teams, Daxium-Air enables the generation of structured and comprehensive reports. These reports are then shared with all stakeholders, ensuring effective communication and collaboration. By leveraging the mobile form editor and report generation platform provided by Daxium-Air, any organization can digitize and automate these operations, improving efficiency and accuracy throughout the process.
Simply create your web and mobile
audit forms.
Daxium-Air empowers you to create customized mobile audit forms for inspections, inventories, audits, and control operations. These forms include various measurement criteria such as checkboxes, multiple-choice lists, comments, photos, and plans. With Daxium-Air, you have full autonomy to design these forms and enable field data entry, even in disconnected environments. The platform is compatible with all tablets and smartphones available in the market, ensuring seamless data capture and flexibility for your mobile operations.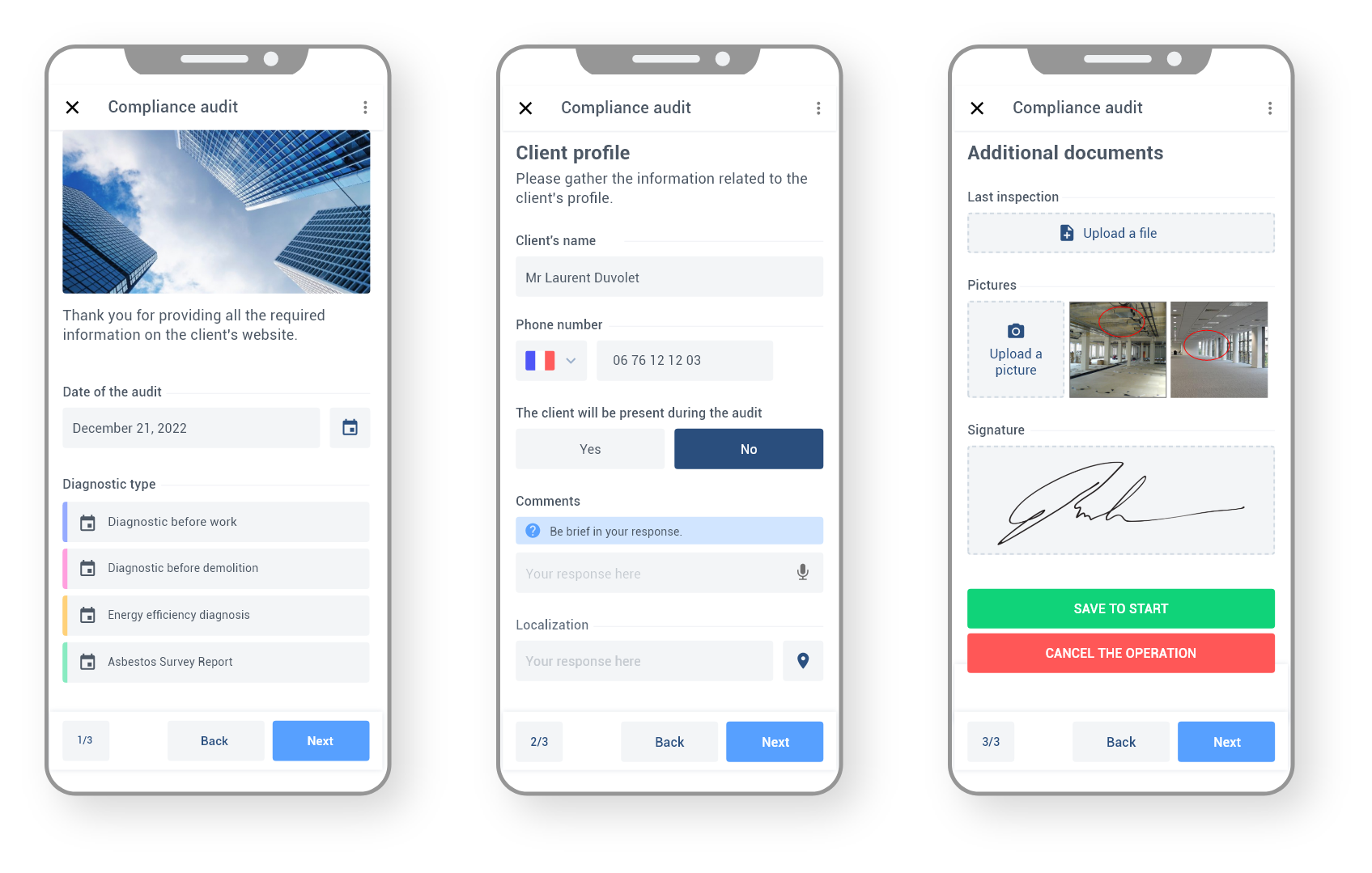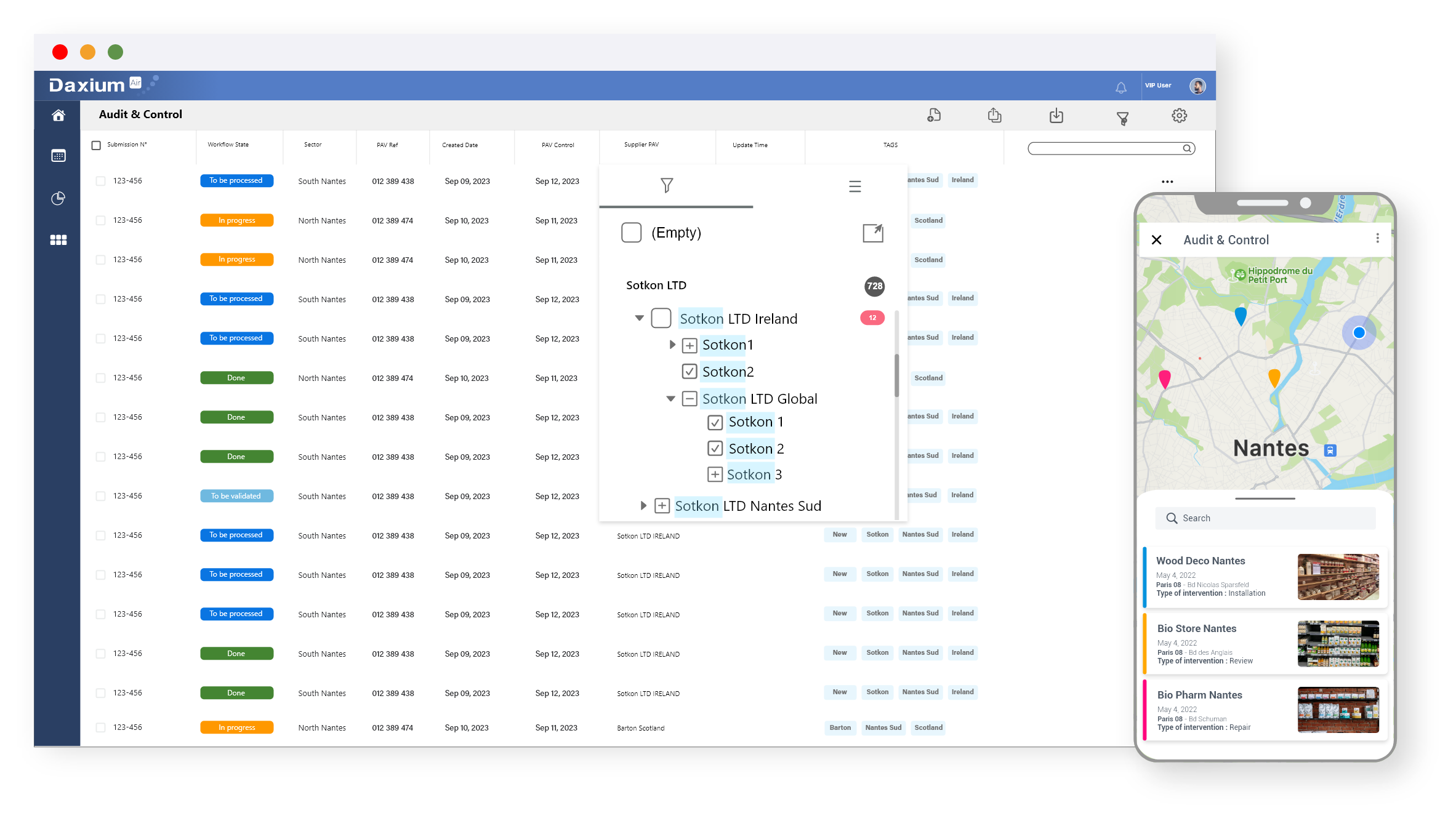 Plan audits and inspections

for your teams.

Daxium's multi-user planning tool helps you visually organise the weekly tasks of your teams responsible for carrying out audits, inspections and controls on your customers' sites. You can then follow the operations carried out in real time from the audit forms, click on the schedule to consult the audit report, which you can correct from the central web space. This calendar has many configurable views for all your employees and subcontractors.
Send your mobile forms via
PDF, Word, Excel reports

.

Your mobile audit, control and inspections forms can automatically generate customisable reports to Word, Excel or PDF formats. These reports can sometimes be dozens of pages long with the fields filled in on the form, tables, photos, automatic summary… The generated reports can be sent to list of configurable recipients, according to publication processes. It is thus possible to define the rules for sending these reports : instantaneous, daily, weekly, every Monday at 8AM, etc.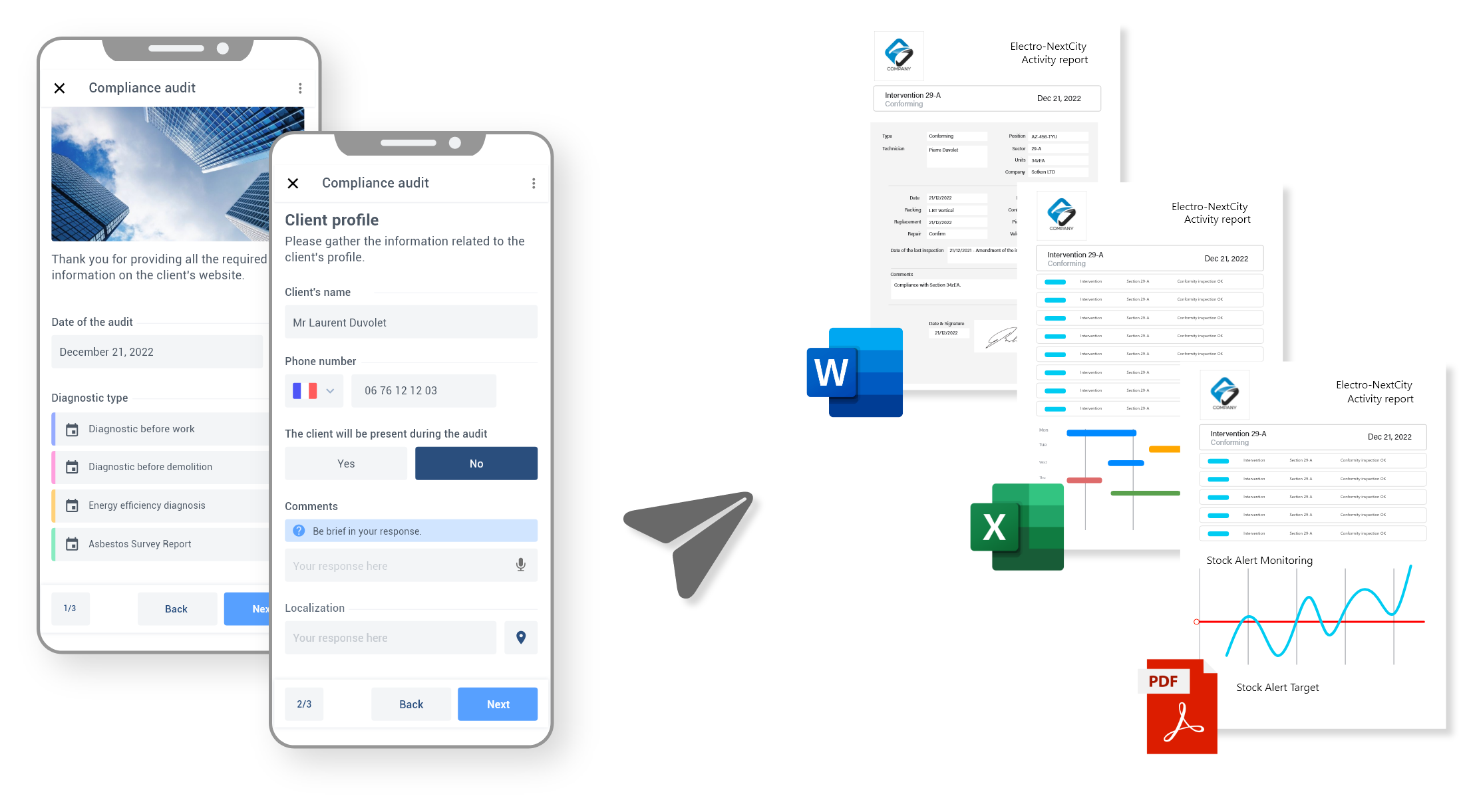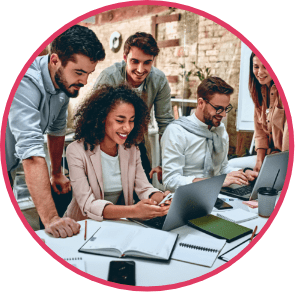 Discover our
no-code

platform to

create your mobile applications

.

Daxium-Air is web and mobile platform adapted to the audit and inspection sectors. Easy to use, it allows you to digitise your audit forms and automate the sending of your reports.
Our
use cases

for the trades
audit, control and inspection.
More than
20 000 users


use Daxium-Air on a daily basis.