Digitise the monitoring of your construction sites.
Projet managers waste a lot of time on site and field activity reports, formatting, and sending site visit reports. Daxium allows project managers to facilitate their site monitoring and save time, to be more efficient while facilitating collaboration between all the parties involved.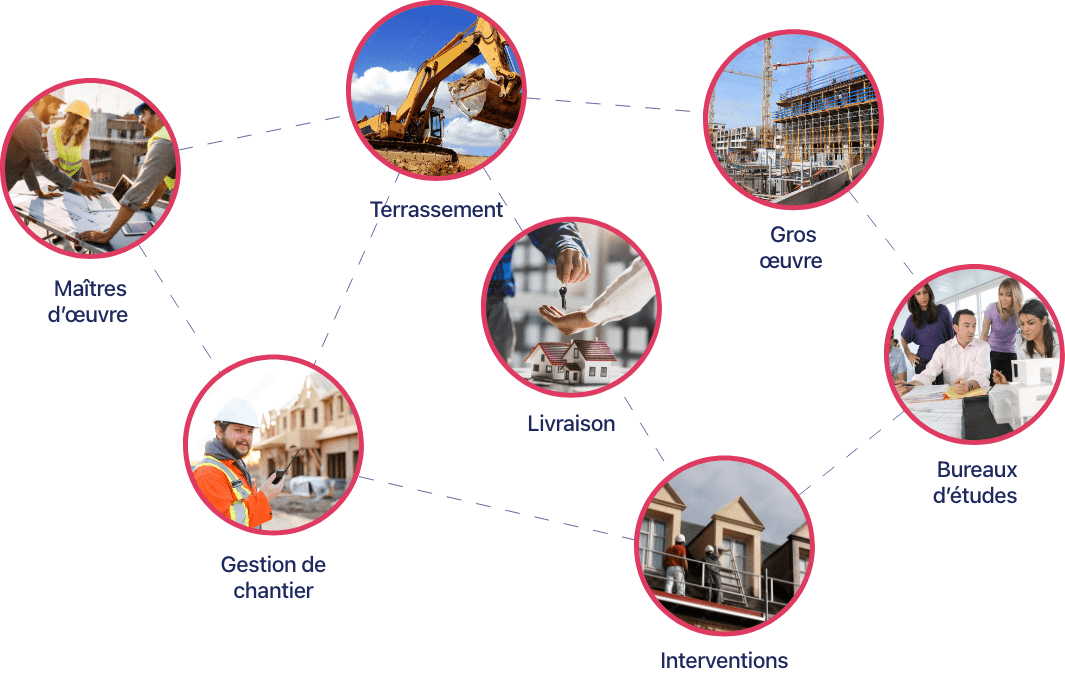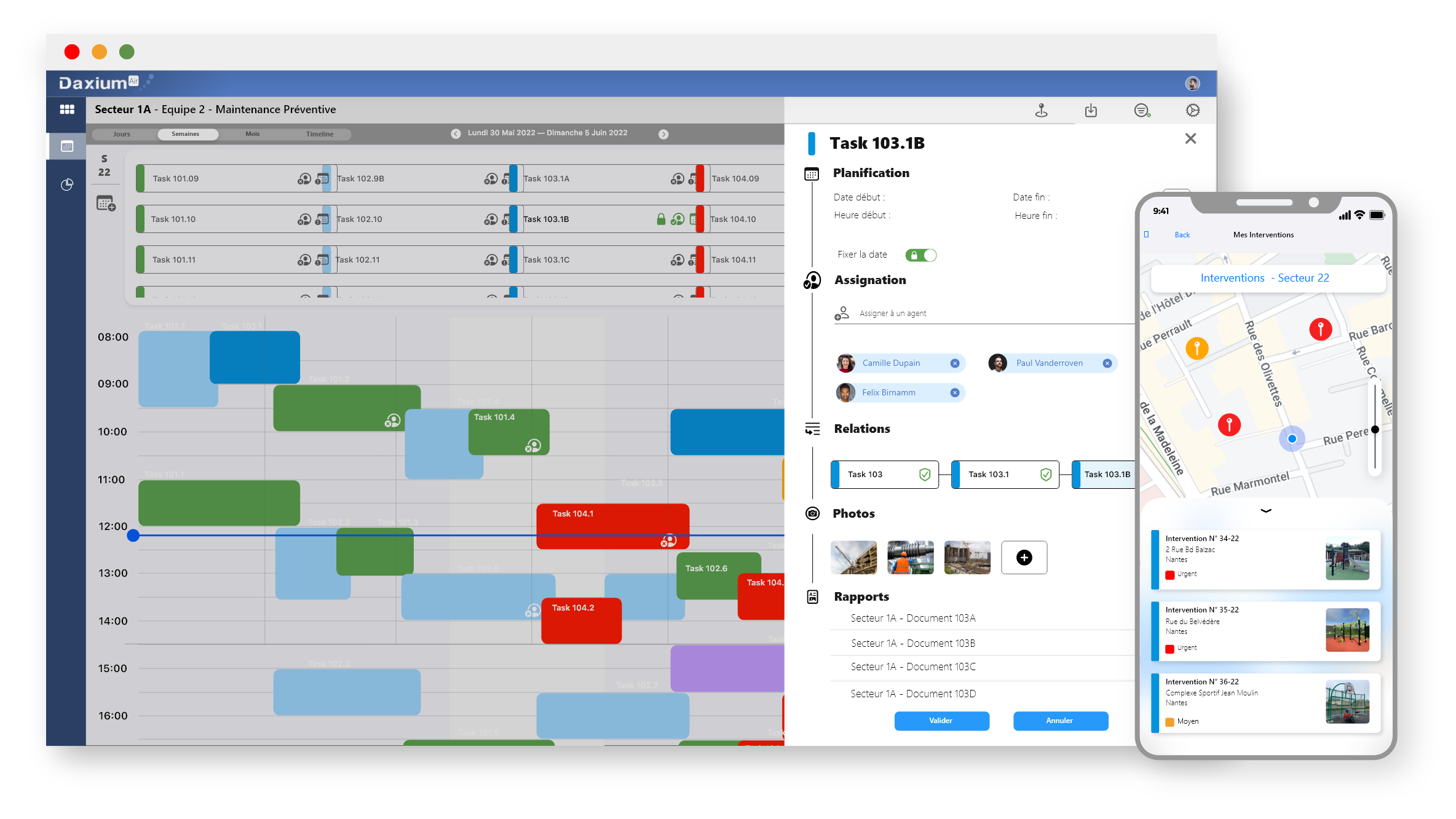 Manage in real time


the work sites of your teams.

Experience real-time site monitoring with Daxium-Air's smartphone and tablet application. Keep site managers and project managers informed of site stages and progress instantly. Capture on-site data, communicate with remote teams, and generate reports seamlessly. Ensure immediate information flow between field and company functions. Enhance collaboration with customers and partners. Stay connected, make informed decisions, and drive project success with Daxium-Air.
Create
customised forms

.

Daxium simplifies the digitization of site activity reports through its mobile form feature, eliminating the need for development. Easily capture and preserve your existing processes while ensuring adherence to standards. From reports and conformity checks to task lists and documentation, Daxium offers a versatile site monitoring application. Seamlessly handle material sheets, OPR and reservations, HQSE reports, attendance forms, and RHI statements (time account) with our comprehensive solution. Unlock the full potential of your site monitoring with Daxium's user-friendly and customizable mobile forms.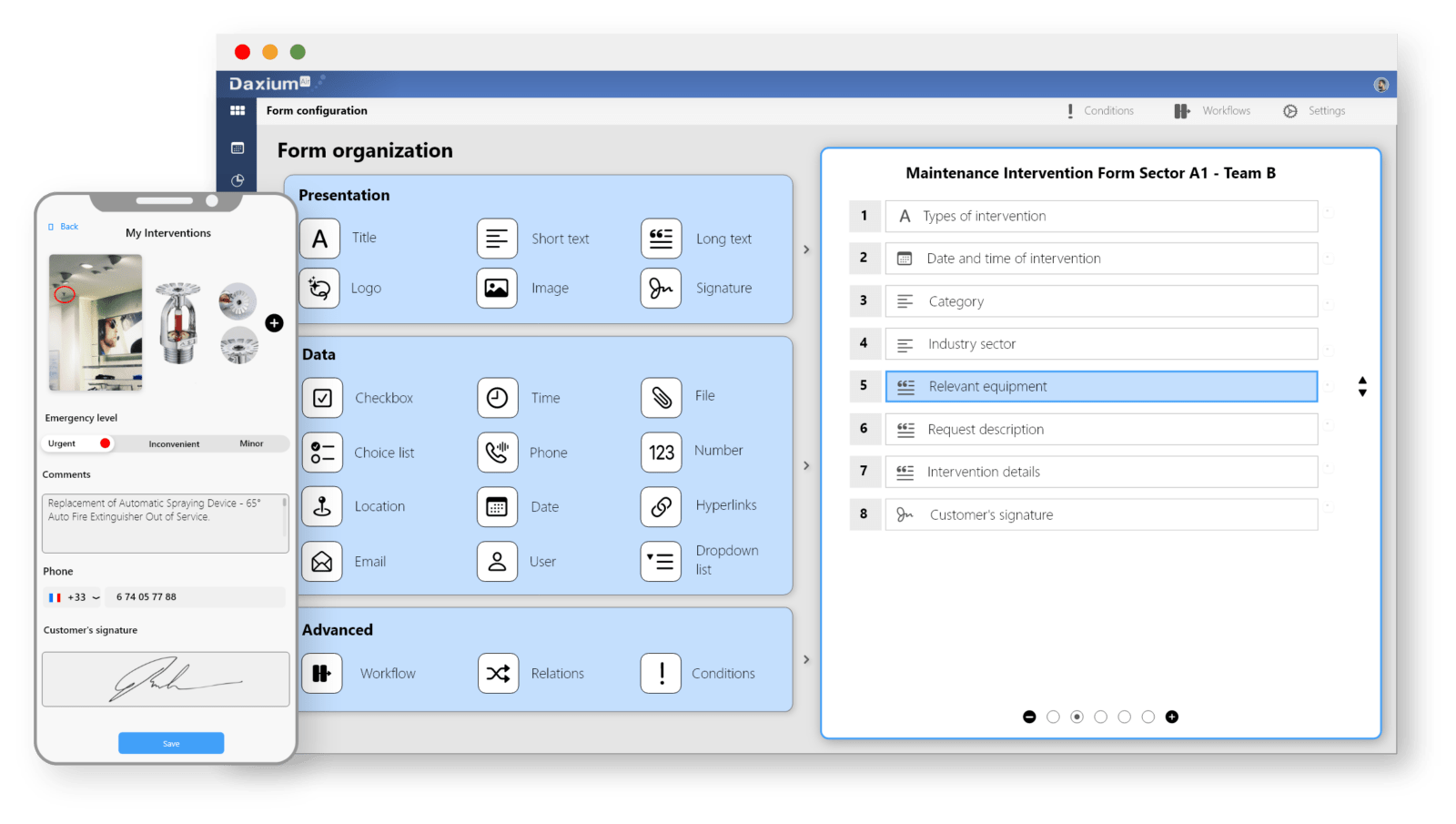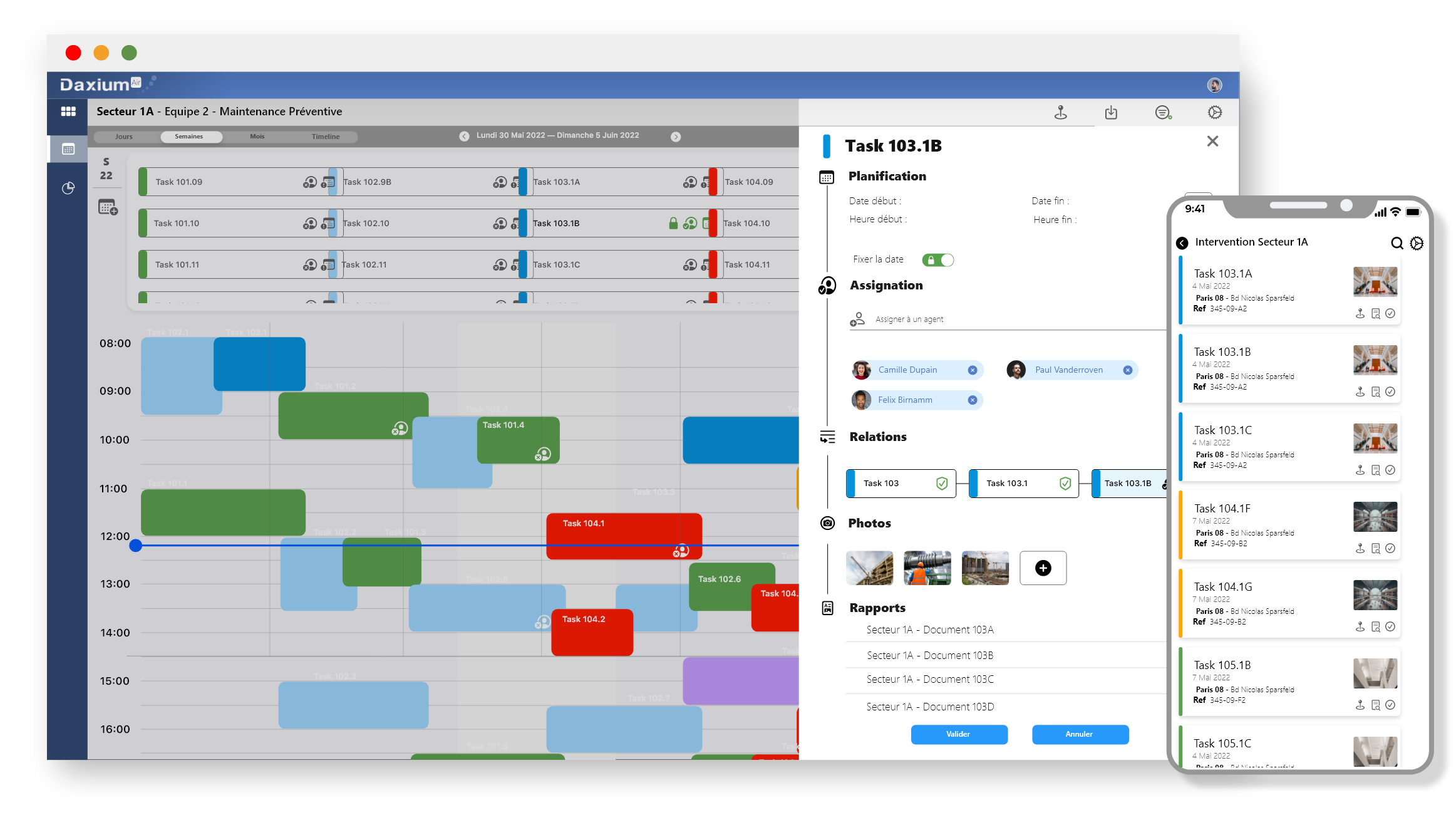 Plan field interventions


from the headquarters teams.

Efficiently plan site milestones and enable real-time reporting between office teams and on-site supervisors, reducing the need for unnecessary travel. With instant communication accessible on smartphones and tablets, supervisors can stay informed and make informed decisions without delays, improving efficiency and collaboration.
Send automatically


your

reports

.

Deliver real-time reports and minutes to both clients and subcontractors in various file formats (PDF, Excel, Word), complete with signatures from all parties involved. Benefit from fast and structured data entry, ensuring comprehensive and up-to-date information. Enhance communication with customers, on-site teams, architects, and engineers through collaborative functions, facilitating effective collaboration and seamless information exchange. Streamline your processes, improve transparency, and foster stronger partnerships with Daxium's real-time reporting and collaborative features.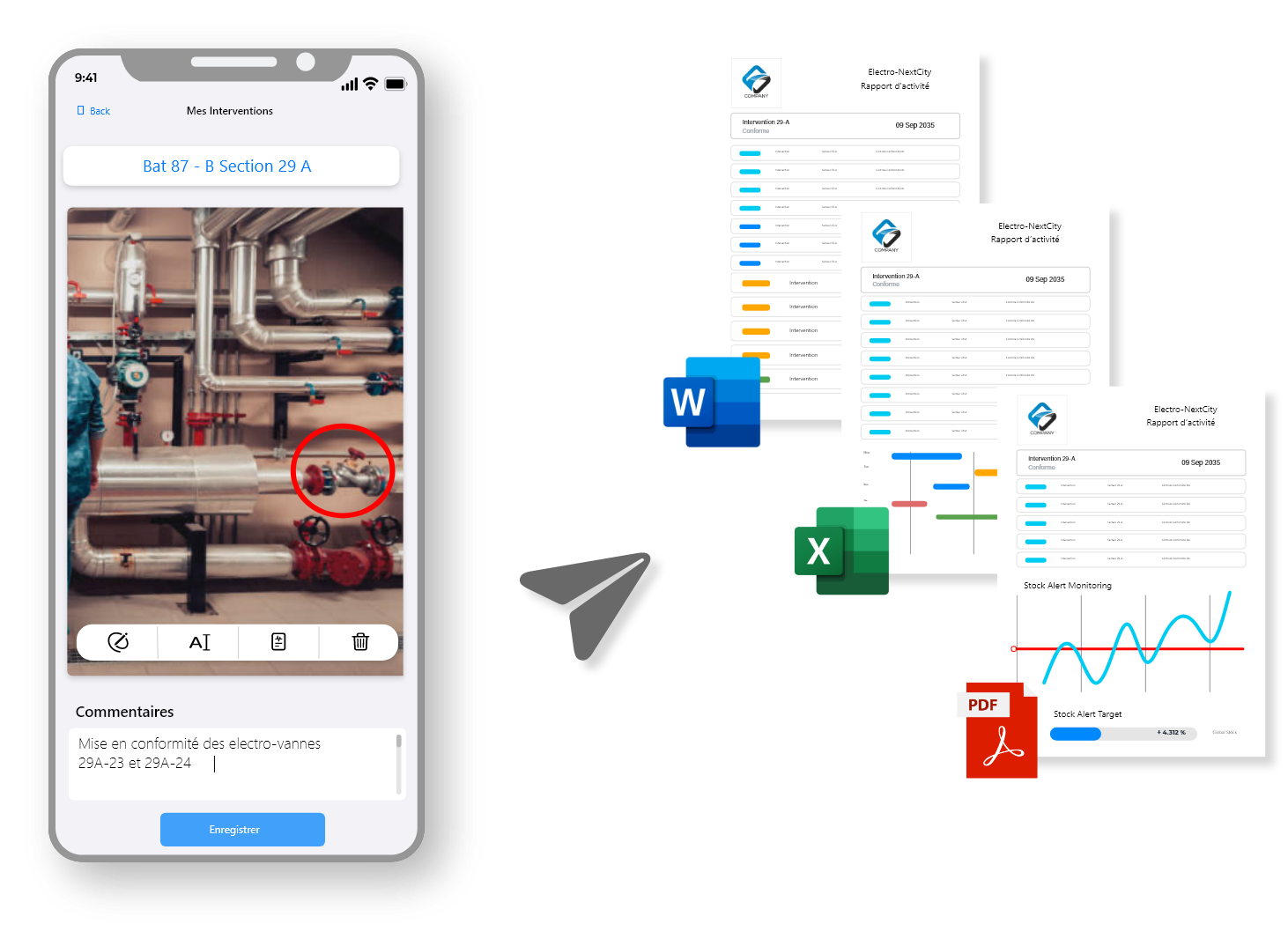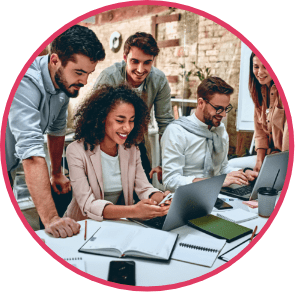 Daxium-Air is a web and mobile platform for
creating your business apps

.

Daxium-Air is a collaborative web and mobile platform specifically designed for the building and civil engineering sector and property projects. It can be easily implemented independently, and for more complex projects, our consultants are available to provide specialized expertise in your sector. With Daxium-Air, you have full control over customization, tailoring the platform to align with your organization, business, and worksites. Experience seamless collaboration, optimized workflows, and improved project management with Daxium-Air's adaptable and scalable solution.
Our
use cases

for the trades
Building and Public Works / Construction
More than
20 000 users


use Daxium-Air on a daily basis.